CSI TWENTE
International Horse Show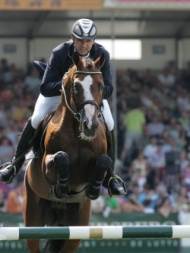 Organisation
Mr. G.H.A. Maathuis (chairman)
Mrs. D.S.G. Maathuis (project manager / treasurer)
Mr. R.G.M. Maathuis (project manager / treasurer)
p/a Profietstraat 10
7631 GR Ootmarsum
Tel.: +31-(0)546-631691
Tel.: +31-(0)546-844500 (during the event)
E-mail: info@csitwente.nl
Event Location
The event is organised at a unique private property called Erve Maathuis, Denekamperweg 2, in Geesteren (Overijssel). Apart from the main arena, there are two additional competition arenas and three training areas. Furthermore, there is straw village, a VIP-hospitality, fairground, stable block and various car parks.
Event Date
The 45th edition will take place from Sunday 16th to Sunday 23th of June 2019.
Program
The program exists of international show jumping and dressage competitions (CSI****/CSI**/CSI*/CDIO/CDI), shows, national show jumping competitions and pony show jumping competitions. The entertainment line-up consists of three festivity evenings and around the Grand Prix of Twente there will be performances by well-known show orchestras and artists. For children there is a special children's programme. Entrance to the grandstands are free on Sunday 16th, Monday 17th, Tuesday 18th, Wednesday 19th and Thursday 20th of June. On Friday 21st, Saturday 22nd and Sunday 23th of June entrance charge is demanded.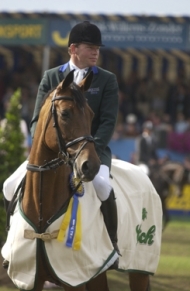 Sponsor Facilities
VIP-Hospitality
Private box tables for 6 or 8 persons. The private boxes are situated on the long and short side of the main arena and provide a wonderful view on the showground. Skyboxes, of which size depends on the amount of visiting guests, are situated on the long side of the main arena, above the private boxes.
Publicity
Bill boards in the main arena (with TV-coverage), bill boards in the second or third competition arena, or in the training areas, naming competitions and shows, advertisement, flyers, programme guide, website etc.
Stand/Exhibition Opportunities
Product promotion or product sale in marked out spaces in the VIP-hospitality and/or the straw village. Diverse opportunities for promotional actions.
Press and Publicity
Advertisements:
Various advertisements in (inter)national magazines, local papers and professional literature.
Editorials:
Editorials and records in different national and local newspapers, magazines, in-house organs, specialist journals and free local papers.
Television Coverage:
360 minute report on RTV Oost and a 15 minute report on national television broadcast by NOS (Studio Sport). The Grand Prix of Twente will be broadcast live by RTV Oost.